Cyprus President Christofias rejects blame for blast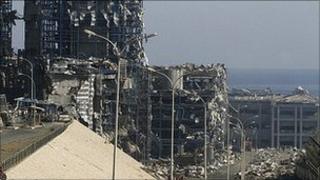 Cyprus President Demetris Christofias has angrily rejected an allegation he was responsible for a blast that killed 13 people at a naval base in July.
Official investigator Polys Polyviou had said Mr Christofias bore "personal responsibility" in being aware of the risk yet taking no precautions.
But Mr Christofias said he "categorically denied" the allegation and said he would not resign.
Cyprus's defence and foreign ministers have already quit over the affair.
The explosion occurred when nearly 100 containers of seized Iranian munitions, being stored at the Evangelos Florakis naval base in Mari, blew up.
It was the Mediterranean island's worst peacetime military accident. The dead included the head of the Cypriot navy and six firefighters. Dozens of people were injured.
The explosion also badly damaged Cyprus's largest power station, leading to severe power cuts across the island.
In a written statement replying to the report, Mr Christofias said the conclusions were "unsubstantiated".
"The president of the Republic categorically denies that he has personal responsibility for the incident," the text of the statement read.
"This conclusion [by the investigator] is not substantiated by evidence or the material which was submitted to the board of inquiry. On the contrary."
Mr Christofias said Mr Polyviou had exceeded his mandate in saying the weapons had been stored to placate Syria and Iran.
"It is not the work of Polyviou to say what our foreign policy should be," Mr Christofias said.
He added: "[My] resignation... would lead Cyprus into a protracted election confrontation leading to a period of instability and tension."
'Time bomb'
Mr Polyviou said he had handed his report directly to the president on Monday morning.
Mr Polyviou said he was convinced that Mr Christofias was aware of the danger, yet took no precautions.
He said the way decaying munitions were stored at a navy base next to a power station was "completely irresponsible".
About 100 containers - most packed with gunpowder - had been stacked in an open field at the navy base since 2009, when they were seized from a ship sailing from Iran to Syria in violation of a UN ban on Iranian arms shipments.
Mr Polyviou said this had been "a time bomb left at the naval base until it exploded".
"My conclusion is that the main responsibility for the tragedy lies with the president," he said.
He said the president had been in charge of a decision-making process that failed to protect Cypriot citizens, despite repeated concerns expressed about the safety of the munitions, which were left in direct sunlight.
He said UN inspectors, who had offered to examine the seized cargo, had been denied access.