Serbia bans gay pride parade citing violence fears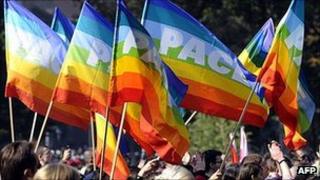 Serbian authorities have banned a gay pride parade planned for Sunday in the capital Belgrade saying they fear it will end in violence.
A number of counter-demonstrations have also been banned.
Last year, several people were injured in clashes between police and far-right groups trying to stop the parade.
Organisers have criticised the ban, saying Serbian authorities have capitulated to extremists. Officials insist it is to protect public safety.
Correspondents say homophobia is widespread in Serbia. Irinej, the head of the influential Serbian Orthodox Church, labelled the planned event a "pestilence" and a "parade of shame".
Interior Minister Ivica Dacic said the marches had been banned to avoid "major chaos".
"Because of these rallies - above all the anti-parade protests - we could expect enormous damage to public order and peace," he said.
"We have seen reports that indicated riots would spread in central Belgrade... to burn cars, headquarters of ruling political parties, seats of foreign companies and embassies."
In a statement supporting the ban, President Tadic said: "That way, the citizens, members of the lesbian, gay, bisexual and transgender population are protected."
Last year's gay pride parade in Belgrade was the first since 2001 when clashes provoked by far-right extremists broke up the march.
Parade organisers said the ban showed that the authorities had not tackled far-right extremists since last year's violence.
"Last year they said the state is stronger than the hooligans but this year they capitulated," organiser Goran Miletic told the AFP news agency.
"They don't want a pride parade. It is a lack of political will."
However, the ultra-nationalist group Obraz (Honour) said on its website that the ban was a "victory".