France rejects Rwanda's Habyarimana extradition bid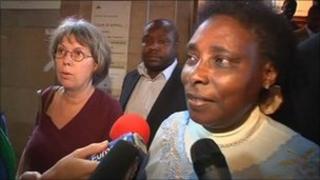 A French court has rejected a Rwandan bid to extradite the widow of ex-President Juvenal Habyarimana, whose killing sparked the 1994 genocide.
Rwanda accuses Agathe Habyarimana, 69, of helping to plan the genocide. She denies the accusations.
Rwandan Justice Minister Tharcisse Karugaramatold the BBC that he respected the ruling, but said she should now face trial in France.
More than 800,000 Tutsis and moderate Hutus died in the massacres.
Juvenal Habyarimana, a Hutu, was killed when his plane was shot down above Kigali airport on 6 April 1994.
Within hours a campaign of violence, carried out mostly by Hutus against Tutsis, spread from the capital throughout the country.
The Hutu militias blamed the Tutsis for downing the president's plane, although it has never been proved who was responsible.
It is widely believed that Hutu extremists and the government had long planned the genocide.
After the Paris court gave its judgement, Mrs Habyarimana told journalists: "I'm relieved, I've always had faith in the French justice system."
Mr Karugarama told the BBC's Focus on Africa programme that Rwanda would respect the ruling "for whatever it is worth".
"Whether we are happy with it or not is a different matter," he said.
He called for Mrs Habyarimana to be tried in the French courts.
She already faces a case in France's civil courts, brought by rights activists in 2008.
But her lawyer, Philippe Meilhac, said the extradition ruling would cause problems for the civil case.
"We can't stay like this for ever. The very serious accusations against Mrs Habyarimana are old and completely denied by Mrs Habyarimana," he said.
France and Rwanda have no extradition treaty, so each case is dealt with separately.
In recent years French courts have turned down several extradition requests for genocide suspects on the basis that the individuals would not get a fair trial.
Rwanda's Tutsi-led government, which seized power after the genocide, has often accused France of not doing enough to help provide justice for the victims.