Kosovo-Serbia talks off after renewed clashes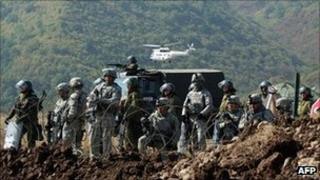 EU-mediated talks between Serbia and Kosovo have been called off amid heightened tension in northern Kosovo.
The Serbian delegation was "not ready to proceed" with talks in Brussels, EU diplomat Robert Cooper said.
Talks had been postponed from Tuesday after 16 ethnic Serbs and four Nato peacekeepers were hurt in clashes in an ongoing dispute over border crossings.
Nato said troops had used tear gas and rubber bullets after pipe bombs were fired at positions in northern Kosovo.
However, Serbia called Nato's actions "absolutely unacceptable" and a hospital boss said six of the injured civilians had been shot with live rounds.
In his statement after the cancellation of talks, Mr Cooper said the border violence was "not part of the dialogue nor the subject of any separate negotiations with Serbia".
"The dialogue will continue when the Serbian side is ready to re-engage," he added.
Roadblocks bulldozed
Serbia's chief negotiator, Borislav Stefanovic, said talks could not resume until the situation in northern Kosovo was resolved.
"Talking about the crossings is a priority for us right now, and there is no other topic except this one," Serbian news website B92 quoted him as saying.
Kosovan efforts to take control of border posts have been resisted by ethnic Serbs in the north of Kosovo, who refuse to recognise the sovereignty of the government in Pristina.
Previously, the border posts had been guarded by ethnic Serb members of the Kosovan police. The ethnic Albanian government suspected them of failing to implement customs controls.
Kosovan Serbs built roadblocks to prevent access to two contested border posts, and even built a new track into Serbia to circumvent the crossing at Jarinje.
Tuesday's violence flared when troops from Nato's K-For mission used bulldozers to remove the roadblock near the Jarinje border post.
The EU has called for the barricades to be dismantled.
On Wednesday K-For troops were reinforcing their positions at Jarinje, deploying armoured vehicles, sand bags and barbed wire, according to a Reuters eyewitness.
Serbia regards Kosovo as part of its territory, having refused to recognise its declaration of independence.
Around 80 countries have recognised Kosovo, but a still larger number have withheld recognition.