Norway charges three in terror plot over cartoons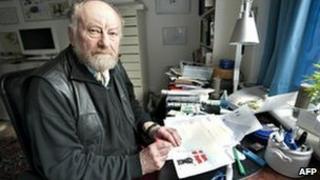 Prosecutors in Norway have charged three men with conspiracy to commit terrorism in connection with the 2005 Prophet Muhammad cartoon controversy.
The three are accused of planning to attack Danish cartoonist Kurt Westergaard and the newspaper Jyllands-Posten, which published his cartoons.
The men - of Iraqi Kurdish, Chinese Uighur and Uzbek origin - were arrested in Norway and Germany in 2010.
They had allegedly acquired bomb components and tried to buy a gun.
The three are expected to be tried next month.
They were named as Mikael Davud, a Norwegian of Uighur origin, Shawan Sadek Saeed Bujak, an Iraqi Kurd residing in Norway, and David Jakobsen, an Uzbek also living in Norway.