AnonAustria hackers publish personal police data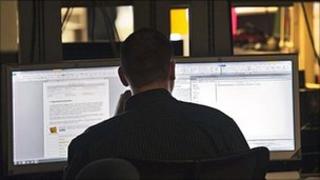 An Austrian computer hacking group has published the names and addresses of nearly 25,000 police officials, raising fears for officers' personal security.
Private data leaked by AnonAustria relates to a range of ranks, from beat officers to senior commanders.
Police union official Walter Scharinger said it was worrying for officers who might be targets of revenge by criminals they have encountered.
Austria's State Office of Criminal Investigation is looking into the case.
AnonAustria said on its Twitter account it was protesting against a draft law which would require telecommunications companies to store details of all telephone and internet traffic for six months and make them available to the police.
The Wiener Zeitung newspaper said the hackers' move also came a few days after the Vienna public prosecutor announced an investigation into attacks against the websites of political parties.
The details, which also included officers' dates of birth, were reportedly leaked to the group, rather than hacked.
The interior ministry said the information was not its own data, but that of a "police-related association".