Putin 'will not end Russia impasse' - Gorbachev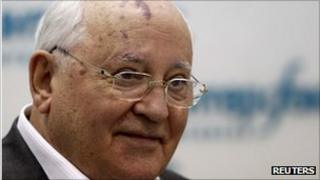 Ex-USSR leader Mikhail Gorbachev has warned Russia risks wasting six years if PM Vladimir Putin returns to the presidency in March as expected.
Reacting to the news Mr Putin will run for office in 2012, Mr Gorbachev said Russia was at an "impasse" and that he doubted Mr Putin could bring change.
Mr Putin told a ruling United Russia party congress on Saturday he would stand again.
If he is elected, current President Dmitry Medvedev may replace him as PM.
Mr Putin served two terms as president before Mr Medvedev took over in 2008. He was barred by the constitution from running for a third consecutive term.
Mr Gorbachev said he hoped Mr Putin's move would provide an incentive for the leadership to get Russia out of the "impasse" it was in, but that this was unlikely as it was he who had created the current situation.
"We can assume that there will be no movement forward if there are not serious changes along the lines of a replacement of the entire system," he wrote in the opposition Novaya Gazeta newspaper, which he partly owns.
"Without this we could lose six years. I think that the future president needs to think about this very seriously."
Mr Putin's decision means that he could in theory remain in office until 2024, prompting Novaya Gazeta to publish artists' impressions of how he, Mr Medvedev and other senior politicians might look in that year.
It portrayed them dressed in medal-festooned suits, recalling the elderly Soviet leadership which clung on to power in the early 1980s.