Amnesty International report finds clerical sex abuse was 'torture'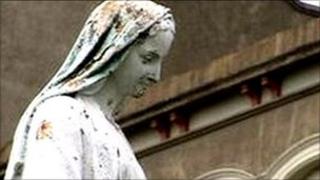 A report from Amnesty International has said the abuse of children by priests and church-run institutions in Ireland amounted to torture.
The research, which included an opinion poll, was commissioned following the publication of a number of reports which catalogued decades of abuse.
It found that some of that abuse met the legal definition of torture.
The poll showed 84% of those surveyed felt society should have done more to prevent abuse.
The In Plain Sight report was based on four major inquiries into clerical sex abuse in the Republic - Ferns, Ryan, Murphy and Cloyne.
The human rights body said that despite the severity of the crimes reported, few perpetrators had been convicted.
There was, the report said, a 'deference to' and 'fear of' the Catholic Church.
The survey carried out by Red C found that half of those polled felt society would prefer to turn a blind eye to child abuse.
The poll also found a majority believed it was important that children had their opinions taken into account when significant decisions affecting them were being made.