Putin-Medvedev: Handing over the keys to the Kremlin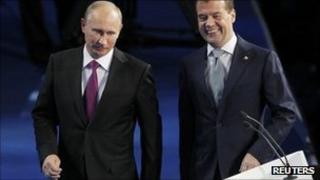 When Dmitry Medvedev was elected to the Kremlin three-and-a-half years ago, many Russians suspected that he was simply the caretaker: brought in by Vladimir Putin to keep the presidential chair warm until the constitution would allow Mr Putin to take his seat for a third term.
Earlier this year, though, the caretaker was sounding more like a rebel. President Medvedev publicly clashed with Prime Minister Putin on a string of issues, including Libya, the Russian political system and the case of jailed oligarch Mikhail Khodorkovsky.
There were rumours that Mr Medvedev was a die-hard liberal and building a rival power base, and that he was determined to remain in the Kremlin.
There was no sign of the rebel today at the United Russia congress - the party conference of the party of power.
It was Medvedev the Caretaker who took the stage and announced he was more than happy to hand back the keys to the Kremlin to Vladimir Putin. There was rapturous applause in the hall.
Mr Putin said he was honoured at the suggestion and agreed to stand in the presidential election next March. For his part, Mr Medvedev said he would be prepared to take Mr Putin's current job of prime minister. It's the Kremlin version of musical chairs, and few people in Russia are surprised to see it being played.
"Only 14% of Russians believe Medvedev is the real president," says Lilia Shevtsova of the Carnegie Moscow Centre. "The population considers him to be a non-entity, a shadow and simply Putin's lap-dog."
There is little doubt that Vladimir Putin will win next year's presidential poll. Not only is he the most popular politician in Russia, he also controls the entire political system, one which keeps any potential rivals from appearing and attracting support.
So what will President Putin Take 3 mean for Russia? His supporters say stability, a calm hand which will guide the country through potentially difficult economic times. His critics predict stagnation, more corruption and the suffocation of democracy.
There may be consequences, too, for the outside world. In the past, Western leaders have found it difficult dealing with Vladimir Putin - they will have to get used to the prospect that once again he will be the man they will need to do business with.