Greeks ready to bail out over bailout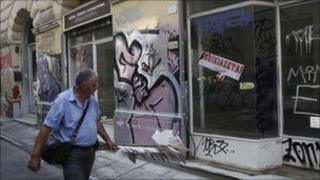 Greece is set to impose even tougher austerity measures aimed at securing further bailout funds to help ease the country's debt crisis.
Greek people and and other residents have been been getting in touch to talk about how they are reconsidering their futures in the country. Some have already left.
Chantel Kyriakopoulou-Beuvink, Athens, Greece
I am of Dutch origin and have been living with my husband and son in Greece since 2006. At the moment life in Greece is a far cry from the post-Olympic Games euphoria that we all felt back then. But I am lucky to still have a job, working for an incoming tour operator.
I am noticing that life in Greece is getting harder every day.
We are worried and there are many scenarios going through our minds. What will happen if Greece reverts back to the drachma? We are also concerned about the social unrest. It is very challenging if you are working in tourism and the taxi drivers are on strike.
It is still a very safe country, however.
My son has recently started public elementary school. We were promised a full-day's education but at the moment, due to the austerity measures, he only has school till 1pm.
These are very turbulent times for Greece and we have thought about leaving. My husband is a professor at a business school. He still has his job and I still have mine - but the future is insecure.
There is a brain drain happening here, I know many people people who are leaving. A Dutch-Greek friend of mine went back the Netherlands to work as a consultant, with his wife and children; and another professional couple went back to London a year ago.
My hairdresser is now working as a hairdresser in London and he is not going to come back. My new hairdresser is also thinking of leaving.
We are hoping for the collapse of the political system so that bold decisions will be taken that allow economical growth to happen.
George Tsarsitalidis, Sweden
I left Greece six months ago because of the debt crisis, and now live in Sweden. I was feeling like a trapped citizen bombarded by events happening in Greece.
The unemployment rate was rising really fast and educated people like me have no choice but to escape.
It is really bad when you are 26-years-old with two Masters degrees and five languages, to have to leave your country because of the politically corrupted who do not do their job properly.
My mother left for Sweden first and then I realised that my life in Greece was over, so I decided to leave as well. My brother's wife has just lost her job and they are also thinking of coming here too.
I am learning Swedish and will probably be an English teacher.
It was not easy to leave Greece because I was raised in the country I love. Greek people are not lazy. We like to work - but there is no work and it is difficult to move up the career ladder because you have to have the right connections. A father will hire his son without qualifications and the people with qualifications lose out.
Life is much better in Sweden both in terms of the government and the social system. Here you have chances to survive if you are educated, or even if you are not. I need some time to adapt to the culture, but apart from that it is fine.
Dimitra, Manchester
I am a Greek PhD in the UK. I am not planning to go back home. I am an economic immigrant, as studying here provides me a salary to live. I was unemployed for more than three years after finishing my MSc and now I assume that people with PhDs in Greece are even less welcome.
I am scared for my future, my siblings' future, my country's future. People in the EU should know that the economic crisis has a massive impact on our well-being. The austerity measures are killing us.
There are no jobs, and high rates of depression and even suicides. Families and young people do not have money to pay their rent, buy food, or pay their debts. We don't trust anyone, and solidarity is not a word in our vocabulary.
The government is not even funding schools to provide books for pupils, as they believe they can save one billion euros. Instead they give CDs to 5-18-year-olds to study. However, 30% of the Greek population do not have internet or computers.
They have also closed 800 public school libraries, when poor families cannot afford to buy school text books, or even a PC to use for the CD with the school text books.
We don't want to be rich, but now they won't even let us be educated.
We are not fighting to have money, we are fighting for our dignity.
Dionisis, Athens, Greece
Nowadays, living in Greece is a real tragedy. It is not the financial situation that brings you down, it is people's faces, which are more sad than ever.
Everyone is pessimistic about tomorrow and I get angry when I realise that the crisis has nothing to do with the common man, the common labourer, or the common journalist like me, who has to work more than 10 hours a day for 600 euros per month. Would you like to live like that? Did I choose to live like that?
I am 23-years-old and my future is committed to the debt crisis. There are taxes on my salary, taxes on my home, taxes for the air I breathe! I don't know how long this is going to last.
If we leave the country, where will we go? Italy and Portugal has the same problem along with Spain and unemployment is rising in Germany.
I don't know if leaving is an option. Maybe in the 70s it was an option when our grandfathers left and went to America and Australia to seek out new opportunities but now things are different. It is not so easy.