Concern for Slovene bailout vote after government falls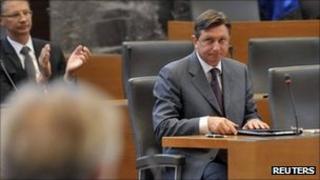 Slovenia's government has fallen after losing a confidence vote but says it expects the EU bailout fund to be ratified by parliament next week.
Prime Minister Borut Pahor's centre-left coalition was defeated amid opposition accusations of corruption and economic mismanagement.
However, it remains in office as a caretaker government.
An aide to Mr Bahor said the vote in the euro state's parliament could be "very tight".
"When the finance committee met yesterday... they got through by seven votes [for] and six against," foreign policy adviser Barbara Raflak was quoted as saying by the EU Observer news website.
"We already had a minority government and the whole opposition is against it."
If a new government is not formed within a week, elections will be called, with a date in December likely.
Election effect
Parliament is scheduled to vote on Tuesday on widening the scope and value of the EU bailout fund, the European Financial Stability Facility (EFSF).
A follow-up loan package for Greece worth 109bn euros ($155bn, £96.3bn) is due to be drawn largely out of the EFSF, which must be ratified by all 17 eurozone states.
The Slovenian finance ministry said it did not expect the fall of the government to result in the bill's defeat.
According to Reuters news agency, most analysts also expect parliament will pass the legislation but the result is not guaranteed.
"I expect parliament to endorse the bill but an unexpected rejection could happen as parties prepare their pre-election tactics," said Borut Hocevar, an editor of daily Zurnal24.
Speaking after the Slovenian government fell, European Commission spokeswoman Pia Ahrenkilde Hansen said: "In this new situation, we do have full confidence in the democratic institutions of Slovenia to meet its obligations and fulfil its commitments."