Pro-Russia party wins most votes in Latvia election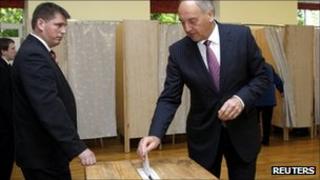 A pro-Russia party has won the most votes in Latvia's snap general election but without an absolute majority.
The Harmony Centre won 29%, with almost all votes counted, the strongest showing for an ethnic Russian party since the former Soviet state's independence.
The new Zatlers Reform Party won 21% while the Unity bloc of Prime Minister Valdis Dombrovskis took 18%.
They are likely to form a coalition to keep Harmony Centre out of government.
A quarter of Latvia's population is Russian-speaking.
During the Soviet period, which ended in 1991, Latvia experienced a big influx of immigrants from other parts of the USSR, mainly Russia.
Analysts say the parties are wary of the Harmony Centre party's ties with Russian leaders.The Zatlers Reform Party is headed by ex-President Valdis Zatlers, an anti-corruption campaigner.
He lost the presidency to Andris Berzins in a parliamentary vote in June.
Coalition maths
Unity and Zatlers Reform Party are likely to gain 42 seats in the 100-seat parliament, meaning they will need the support of a smaller third party to achieve a majority.
The other two parties who crossed the 5% threshold needed to enter parliament are the Greens and Farmers Union with 12% and the right-wing National Alliance with 14%.
But as the Greens and Farmers Union is led by Aivars Lembergs, a fierce political opponent of Mr Zatlers, it is unlikely that it could join a Zatlers-Unity coalition.
The leader of Harmony Centre said that the party's views should be reflected in any new government.
"I am convinced that Latvian politicians ... will be able to form a coalition where the interests of all voters are represented," said Nils Usakov.
The election was triggered by a corruption crisis involving powerful business people that has flared as Latvia struggles to recover from near economic collapse.