German police seek help over mystery 'forest boy'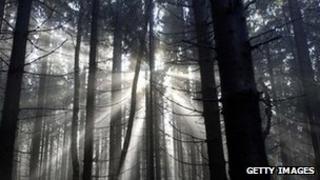 Berlin police have appealed for information to help them establish the identity of a teenager who appeared in the city saying that he had been living in the woods for five years.
The teenager is about 17, and speaks English and a little German.
He told the police that he and his father went to live in the woods after his mother died.
He said he left the woods in August when his father died, and walked for two weeks before reaching Berlin.
He said he couldn't remember where his family came from, but that his name was Ray.
"We have sent appeals for help to all European countries via Interpol... we really have no idea where he comes from," Michael Maas, a spokesman for the Berlin police said.
The boy appeared at a youth emergency centre in Berlin on 5 September. He and his father had taken to the woods about five years ago after his mother's death, he told police.
The boy said he and his father did not set up a home, but slept in a tent, and huts they found in the woods.
Police say the boy claims he followed his compass and went northwards after his father died, reaching Berlin.
The boy has been medically examined and is physically healthy.
Police say they have no evidence of a crime having been committed.