EU police fly in to secure Kosovo border crossings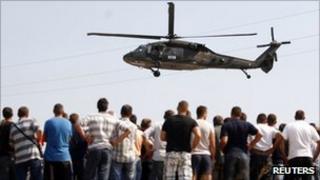 Helicopters have been ferrying EU police to Kosovo border crossings with Serbia after ethnic Serbs blocked roads to stop Kosovan police entering.
It was unclear whether the helicopters were carrying any ethnic Albanian Kosovan police to the two disputed crossings in the ethnic Serb north.
A Kosovan policeman was shot dead when the government tried to take control of the posts in July.
Since then, the crossings had been guarded by Nato-led K-For peacekeepers.
Previously, the border posts had been guarded by ethnic Serb members of the Kosovan police, whom the ethnic Albanian government in Pristina suspected of turning a blind eye to a ban on imports from Serbia.
When the government sent police special forces to the crossings, ethnic Serbs rioted, and the situation was only calmed after the peacekeepers intervened, mediating between the two sides.
The vast majority of ethnic Serbs in Kosovo do not recognise Kosovan independence and the legitimacy of the government in Pristina.
Kosovo has been supervised by international bodies since the end of the war in 1999, in which Serbia was forced to withdraw its security forces.
Helicopters land
Nicholas Hawton, spokesman for the EU rule of law mission Eulex, confirmed that "people and provisions" were being carried in and out of the area of the two border crossings.
He could not say if Kosovo officials were also being transported, as announced by the Kosovan government, the Associated Press news agency reports.
Shortly after 08:30 (06:30 GMT) reporters saw Eulex helicopters landing near both the Jarinje and Brnjak crossings, with teams of police and customs officials heading to the posts.
But reporters were unable to get closer to the posts, surrounded with barbed wire and sand bags, to confirm if any Kosovans were among those arriving, AFP news agency reports.
Kosovo's import ban was imposed in response to Belgrade's effective bar on imports from Kosovo, imposed when the territory unilaterally declared independence from Serbia in 2008.
Belgrade still regards Kosovo as part of Serbia and refuses to admit any goods with a "Republic of Kosovo" customs stamp.
There are 60,000 ethnic Serbs in Kosovo.
'Provocations'
In addition to the blockades near the border posts, Serbs in the ethnically divided town of Mitrovica blocked the main bridge.
Krstimir Pantic, the mayor of the Serb-controlled part of Mitrovica, said people would man barriers until they were assured that ethnic Albanian police would not be deployed at the border crossings.
"Citizens will stay on the barricades, on the street, until the situation calms down, until we are sure that the international community and Kosovo Albanians will not continue with unilateral actions, and until we get firm guarantees that on the administrative border crossings members of so-called Kosovo police and customs will not be deployed," he said.
A demonstrator at a barricade near the Jarinje border post told Reuters: "We want no violence, but we will defend what is ours."
The news agency quoted a Serbian government spokesman as saying: "I am hoping Kosovo Serbs will preserve wisdom and avoid almost certain provocations. Any violent response will aid the Pristina government and its intentions."
During a visit to Kosovo on Thursday, Nato Secretary General Anders Fogh Rasmussen said peacekeepers would intervene to stop any violence.
"K-For troops have to act in self-defence and... they also have to act if it is necessary to maintain a safe and secure environment," he said.
The dispute was also discussed at the UN Security Council. AFP said a UN peackeeping chief told the council he was concerned that a border operation "could lead to another outbreak of violence" in Kosovo.
More than 70 countries have recognised Kosovo's independence, but an even greater number of countries have withheld recognition.