Russia's Prokhorov quits poll, attacking Kremlin aide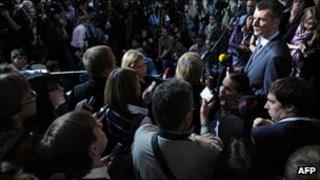 Russian tycoon Mikhail Prokhorov has ended his election campaign, accusing a top Kremlin official of sabotage.
The metals billionaire had hoped to lead his party into parliamentary elections in December, but quit following a split in the party.
He said Kremlin strategist Vladislav Surkov had "privatised" the political system and had been behaving like a "puppet-master".
Russia's leaders, he argued, were being kept in the dark about developments.
Correspondents say the tycoon was not seen as a serious political threat but his outburst took many by surprise.
It came hours after he had left his own political party, Right Cause, where he took over as leader less than three months ago.
The party's general congress descended into chaos on Thursday, with the party splitting into two factions.
Mr Prokhorov's leadership had been widely seen as engineered by the Kremlin in a bid to boost the profile of a loyal fringe party, and capture the votes of Russian liberals and business figures in the elections, the BBC's Steve Rosenberg reports from Moscow.
Some believe the authorities decided to pull the plug on the Prokhorov project, having concluded he could not be trusted as a political partner, our correspondent says.
An alternative view, he adds, is that there was a secret Kremlin plan to boost Mr Prokhorov's image as a strong politician who was independent of the Kremlin.
Russia's powerful Prime Minister, Vladimir Putin, and President, Dmitry Medvedev, enjoy solid support in the parliament, the State Duma, where electoral reforms overseen by Mr Putin effectively exclude smaller parties and independent MPs.
Real politics 'impossible'
Mr Prokhorov, ranked by Forbes as Russia's third richest man with a fortune of around $18bn (£11bn; $13bn euros), announced on Thursday he would boycott the 4 December parliamentary election.
"There is a puppet master in this country who long ago privatised the political system and has for a long time misinformed the leadership of the country," Mr Prokhorov said.
"His name is Vladislav Yurevich Surkov. Real politics are impossible as long as such people rule the political process."
There was no immediate comment from Mr Surkov or the Kremlin.
Mr Surkov, the Kremlin's political strategist who is rarely seen in the public eye, is said to be one of the most powerful people in Russia.
It is believed Mr Prokhorov, among other things, antagonised the Kremlin by inviting Yevgeny Roizman, a former Urals MP who heads a controversial anti-heroin campaign, to join his party list.
An unnamed source in the Kremlin administration, speaking earlier to Interfax news agency, dismissed the tycoon's attacks on the Kremlin as "hysterics".
Masha Lipman, an analyst at the Carnegie Moscow Center, said she believed the Prokhorov-Kremlin row was "genuine" but did not mean the tycoon had never consulted the Kremlin about his plans.
"Otherwise, he would not have been able to go on television and campaign," she told the Associated Press.
Mikhail Delyagin, an economist attending Mr Prokhorov's congress as a guest, said the businessman had come into conflict with the Kremlin by forging his own path.
"He took off the Kremlin dog collar," he commented.