Profile: Swiss bank UBS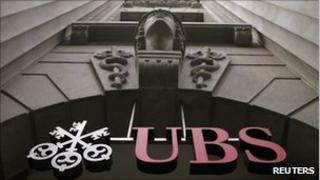 UBS, Switzerland's largest bank, has not had the best of times recently - making huge losses in America's sub-prime market, shedding thousands of jobs, and now losing $2bn (£1.3bn) at the hands of a rogue trader.
The uncovering of an alleged rogue trader is a clear knock to the bank, which is still in recovery after the financial crisis of 2008 when it had to rescued by the Swiss government.
Analysts say the latest revelation could dent the bank's reputation, which remains fragile despite efforts to stress its reduced-risk profile.
Some have also expressed concern that rich clients could take flight from its private bank, the core of its business, and that it could also spark calls from some for the bank to close its investment banking activities.
With headquarters in Zurich and Basel, the company employs about 6,000 staff in Britain and 65,000 worldwide, with the bulk of UBS's investment banking operations based in London and New York.
The 150-year-old bank operates in all of the major financial centres worldwide, with offices in over 50 countries.
Style-guide gaffe
In July, UBS reported a drop in quarterly profit, and last month the company announced 3,500 jobs cuts.
It also said its target for pre-tax profit set in 2009 was unlikely to be achieved in the original time frame.
In recent years, the bank has been trying to build credibility after being hit hard by the sub-prime crisis.
Following huge losses on toxic assets held by its investment bank, it received a $60bn bailout from the Swiss government in 2008.
In February 2009, UBS announced that it had lost nearly $17bn in 2008, the biggest single-year loss of any company in Swiss history.
That month, Oswald Gruebel, a former Credit Suisse executive, took the helm as chief executive.
The company also became embroiled in a serious tax evasion dispute with US authorities and was forced to hand over 300 client names and pay a $780m fine. In a second case, it agreed to hand over data on 4,450 American clients.
In January, the bank announced that it would revise its dress code after being mocked for its style guide.
Its guidance had previously included advising women to wear skin-coloured underwear and explaining how to apply make-up, as well as an explanation for men on how to knot a tie.