Dominique Strauss-Kahn quizzed on French assault claim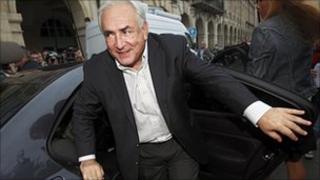 Former IMF chief Dominique Strauss-Kahn has been questioned by police in Paris over a complaint by a French journalist and writer of attempted rape.
Tristane Banon alleges she was assaulted by Mr Strauss-Kahn in a Paris apartment when she was interviewing him for her book in 2003.
Mr Strauss-Kahn arrived back in France earlier this month after charges of attempted rape made against him in New York were dropped.
He denies both sets of allegations.
Ms Banon made the complaint after Mr Strauss-Kahn was arrested in New York in May following an allegation of attempted rape by a maid tending his hotel room there.
Ms Banon said she did not think she would have been believed if she had made the complaint earlier.
Mr Strauss-Kahn landed in Paris on 4 September, two weeks after New York prosecutors asked for the charges there to be dropped because of doubts about the credibility of the maid, Nafissatou Diallo.
Ms Diallo is continuing to press her claims in a civil suit.
Politicians interviewed
Mr Strauss-Kahn had asked that he be interviewed as soon as possible about the latest allegations and spent around three hours at the police station in Paris, Agence France-Presse news agency reports.
The 62-year-old had once been seen as a possible presidential contender for the Socialist party.
But observers in France say that, while he is legally innocent, his reputation has taken a battering from a succession of stories about his womanising over the past few months.
Ms Banon, now 32, is the daughter of Socialist party local councillor Anne Mansouret and is reportedly the god-daughter of Dominique Strauss-Kahn's second wife Brigitte Guillemette.
AFP says that several people, including prominent politicians such as former Socialist party leader Francois Hollande, have already been interviewed by the French justice system about the alleged attack on Ms Banon.
Once preliminary inquiries have been made, French prosecutors will decide whether there is a case that could go to court.
Mr Strauss-Kahn has filed a defamation suit against Ms Banon, the AFP reports.