Four terror suspects held in Swedish city of Gothenburg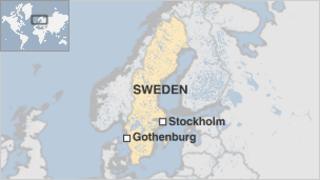 Four people have been arrested in Sweden on suspicion of preparing a terror attack, police say.
They were detained in the west coast city of Gothenburg, security police officials were quoted as saying.
The arrests followed the evacuation of the city's Roda Sten arts centre overnight because of a terror threat.
Some 400 people were celebrating the opening of an international festival for contemporary art when police ordered them to leave the building.
"Around midnight I was called out by the police and they said there was a threat to the building and asked us to quietly stop the party, which we did and everyone left," head of the centre, Mia Christersdotter Norman, told The Associated Press.
"Police have searched the building but they didn't find anything."
Swedish police have given few further details about the arrests in Gothenburg, Sweden's second biggest city.
But the Swedish news agency TT reports that the four were detained near the arts centre.
The incident comes on the 10th anniversary of the 9/11 attacks in the US, but it is not clear if there is a link.
Sweden raised its terror alert level from low to elevated last November because of a "shift in activities" among Swedish-based groups thought to be plotting attacks.
Suicide bomber Taimour Abdulwahab blew himself up in the centre of Stockholm during the busy Christmas shopping period last December, injuring two people.