Lacoste brand 'seeking Anders Breivik clothes ban'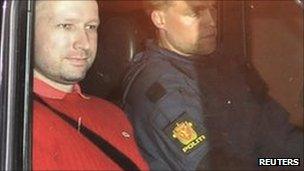 Lacoste has reportedly asked Norwegian police to prevent mass killer Anders Breivik wearing the brand in court.
The French clothing label wrote to Norway's police authorities to make the request, Dagbladet newspaper reports.
Far-right extremist Breivik has admitted killing 77 people during bomb and gun attacks in July.
Breivik - who has reportedly said Lacoste is his favourite brand - has been pictured wearing the label since his arrest.
Lacoste has not yet commented on the reports that they are worried by the association with their brand.
On his way to be questioned over the killings, Breivik was pictured wearing a red Lacoste jumper.
In addition, he was wearing a black Lacoste sweater in other publicly available images.
According to Dagbladet, police prosecutor Christian Hatlo has confirmed that Lacoste has contacted the police.
"Yes, we have been contacted by Lacoste, but what they have asked remains between us," Mr Hatlo is reported as telling the newspaper.
The move by the clothing company follows that of US brand Abercrombie and Fitch, which offered to pay the rowdy, hard-partying cast of an MTV reality show not to wear its clothes.
It said their association with the clothing was contrary to the "aspirational nature" of its brand and might be "distressing" to the brand's fans.
It singled out one cast member's penchant for the label as particularly damaging, and said it had also offered money to MTV producers to encourage the cast to wear different brands.
Related Internet Links
The BBC is not responsible for the content of external sites.