Germany's Merkel suffers loss in home state election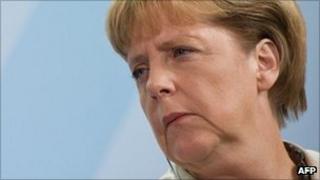 German Chancellor Angela Merkel's party has suffered a loss in elections in her home state, provisional results show.
The Christian Democrats (CDU) won 23.1% of the vote in the north-eastern state of Mecklenburg-Western Pomerania, down from 28.8% in 2006.
The centre-left Social Democrats (SPD) came ahead with 35.7% support. The opposition Greens also made gains.
Correspondents say the eurozone crisis, and Germany's role in the Greek bail-out, figured largely in the campaign.
Mrs Merkel faces national elections in 2013.
'Bitter taste'
State elections this year are seen as a key test of support for the governing coalition between the CDU and the liberal Free Democrat Party (FDP). The SPD is Germany's largest opposition party.
"The CDU is, of course, disappointed by this election result," senior party MP Peter Altmaier told ARD television.
He said it pointed to the need "to stand together. This is the precondition for people to have confidence in our policies."
The FDP have crashed out of the state legislature altogether, securing only 2.7% of the vote, down from 9.6% in 2006.
Parties must reach 5% to enter the state's parliament.
The far-left Linke party was in third place with 18.4% and the Greens were at 8.4%, having previously failed to enter parliament. The Greens are now represented in all 16 of Germany's state legislatures.
The far-right NPD appeared to have scraped back into parliament with 6%, down from 7.3% in 2006.
Analysts expect the "grand coalition" of the CDU and SPD that has governed the state since 2006 to continue.
However, it is also possible that the SPD and Linke could join together or even make a three-way coalition with the Greens.
The SPD has not made clear which party it would rather form a coalition with.
Erwin Sellering of the SPD, who is Mecklenburg-Western Pomerania's current leader, would only say: "We will decide what is best for the region."
In Berlin, FDP General secretary Christian Lindner said it was "a defeat that tastes bitter".
Turnout appeared to be significantly down on the 2006 election, at 53.5% of eligible voters.