Hungary Nazi war crimes suspect Sandor Kepiro dead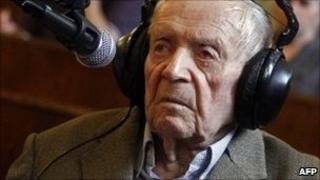 Sandor Kepiro, a former Hungarian policeman recently acquitted of Nazi-era war crimes, has died in hospital in Budapest at the age of 97.
His death was reported by his family and lawyer, who said he believed the trial this summer had contributed to his client's poor health.
A Budapest court dismissed charges he had ordered the execution of 30 people because of insufficient evidence.
Mr Kepiro once topped an international list of wanted war crimes suspects.
His acquittal in July caused outrage at the Simon Wiesenthal Center with its chairman, Efraim Zuroff, pledging to do "everything possible to see that it's overturned".
'Refused to shoot'
More than 1,200 Jewish, Serb and Roma civilians were murdered over three days by Hungarian forces in a notorious massacre in the Serbian city of Novi Sad in 1942.
Mr Kepiro was accused of rounding up 36 people during the raid. Thirty of them were put on a lorry, allegedly on the defendant's orders, and taken away to be shot.
The prosecution had demanded at least a prison sentence for Mr Kepiro, but he insisted he had not killed anyone.
He said he had been "the only person to refuse the order to use firearms", and that he had intervened to save five people about to be killed by a corporal.
Mr Kepiro was previously convicted of involvement in the killings in Hungary in 1944 but his conviction was quashed by the fascist government.
He returned to Hungary in 1996 after decades in Argentina, and was first accused in 2006 by the Nazi hunters at the Simon Wiesenthal Center.