Bromine chemical leak in Russian city of Chelyabinsk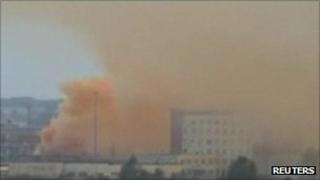 At least 42 people received hospital treatment in the Russian city of Chelyabinsk after a leak of the toxic chemical bromine in a rail incident.
All of those who were treated were in a satisfactory condition, health officials told Russian news agencies.
Reports conflict about the number of people who sought medical advice, with one report speaking of 207, in the city of 1.1 million people.
High doses of bromine may damage internal organs and the nervous system.
Officials said there had been a breach in safety regulations at a railway station and have launched an investigation.
Russia's Interfax news agency said the bromine was being carried by train in 2,267 two-litre (four-pint) glass containers, some of which were broken as carriages were moved around at the town's main railway station.
Between 24 and 50 litres (5-11 gallons) were released, said officials. NTV broadcast images of a dirty orange cloud hanging over the town and said there had been a run on face masks.
"It's impossible to breathe," one resident told reporters.
Some schools sent their students home and people were advised to stay indoors.
But officials said there was no need for alarm and that the leak was under control.
"To calm down the population, I wanted to say that bromine is used for medical purposes to sedate people - albeit not in such quantities, of course," said Alexander Galichin, the region's minister of radiation and ecological security.
The Urals transport authority said there had been a "breach of the regulations on handling, transporting and storing chemical substances".
The prosecutor-general's office has ordered the regional authorities to identify those responsible and "take prosecution response measures if there are grounds for doing so".