Italian businessman arrested over Berlusconi blackmail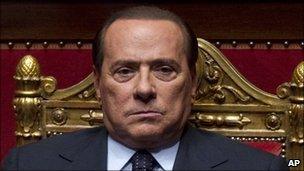 An Italian businessman and his wife have been arrested on charges of blackmailing PM Silvio Berlusconi over his alleged use of prostitutes.
Giampaolo Tarantini has admitted he paid for escorts to attend the PM's so-called bunga bunga parties.
The police say he extorted more than half a million euros in exchange for telling investigators the PM was not aware the women were prostitutes.
Mr Berlusconi admits the payments but says he was helping a family in need.
"I helped someone and a family with children who found themselves and continue to find themselves in very serious financial difficulty," he was quoted as saying in news magazine Panorama.
"I didn't do anything illegal, I limited myself to helping a desperate man without asking for anything in exchange. That's how I'm made and nothing will change that."
Naples prosecutor Francesco Greco said Mr Tarantini had forced Mr Berlusconi to pay his family legal and housing costs in exchange for Mr Tarantini's co-operation in a prostitution investigation in southern Italy.
Mr Tarantini was expected to settle out of court to avoid a lengthier trial that could have brought "embarrassing" details to light, reports say.
Mr Greco did not specify the amount paid, but the Panorama news magazine, which broke news of the investigation last week, said Mr Berlusconi paid Mr Tarantini 500,000 euros (£440,000; $714,000) initially with subsequent monthly payments.
In 2009, Mr Tarantini claimed to have paid several women, including prostitutes, to entertain the prime minister at his homes, but introduced them as his friends.
Mr Berlusconi is not under investigation in this case, but he is on trial separately in Milan for allegedly paying a 17-year-old for sex at some of his parties. He and the woman deny the allegations.
This trial - known as the Ruby case after the stage name of the alleged prostitute, Karima El Mahroug - is one of four trials the prime minister is currently facing.
The other three are related to corruption allegations.
Although frequenting prostitutes is not a crime in Italy, having sex with one under the age of 18 is an offence punishable by a prison sentence.