Serbia tries singles nights to fight population decline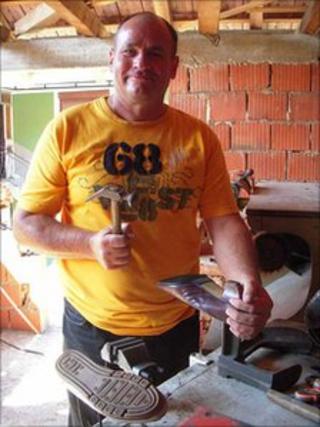 In his tiny, dusty workshop, Slavoljub Tanaskovic toils away, making a pair of ladies' shoes. But it's finding the right lady to fill them that is the challenge.
This 46-year-old has honed his shoe-making skills since a young age, smoothing leather and mending heels. But as he is still single, and still living with his elderly parents, he wants to devote himself to a new pursuit - forming a family. What he wants is the perfect wife, but in the sleepy central Serbian countryside, meeting an eligible girl is not an easy task.
"I want so much to fall totally in love, get married and have children," he tells me. "If I don't have a companion in life, I'll come back to my bed as I left it in the morning. The problem is that people don't marry here because the standard of living is so low and they don't have jobs. How can you raise a family with no money?"
It is a trend felt throughout this country: Serbia has been struggling with a population decline for the past 20 years, principally because of poverty and the wars of the 1990s. It now has one of the lowest birth rates in Europe.
Rural areas are feeling it the most, though, as people increasingly leave for the big cities in hope of a better life, prompting fears that more and more villages will simply die out.
Red roses
But in the nearest town, Jagodina, there is a new and unusual attempt to reverse the tide: Mayor Dragan Markovic has introduced a scheme in which 150 single men and 150 single women, all over the age of 38, are being given a free holiday to the Greek coast in September in the hope that sparks might fly and a few more babies emerge. The venture is funded by the municipality and, he says, private sponsors.
The candidates, Slavoljub among them, meet for an introductory dinner at the local restaurant. As they file in nervously, they are seated at numbered tables, the gentlemen given red roses to present to their female neighbours.
To break the ice, the mayor makes a welcoming address. "We're fighting a falling population," he tells them. "Each year, a town the size of 25,000 people is wiped out in Serbia."
He reels off a list of incentives he has introduced to combat the problem, including free bus passes and stationery for schoolchildren, generous maternity leave and cash bonuses for new parents.
"We want 30% more births in this town than last year, so I'm calling tonight the dinner of love," he says, before urging the gentlemen to kiss the ladies. A few oblige.
As the evening wears on, a local singer arrives, clearing a central spot for some dancing, before entertaining the crowd with traditional folk songs. It begins to feel a little like a school disco, with the most confident showing off their moves, while others look on nervously, instead tucking into their tomato salads and apple cake. But the response seems positive.
"At first I thought this romantic mood created by the mayor was a little forced and artificial," says Ana Zdravkovic. "But now I think it's nice."
"This evening is fantastic," adds dentist Predrag Jevdjic. "Everyone is happy." So has anyone caught his eye, I ask. "Yes, of course, but it's my secret for now!" he replies.
'Cheap trick'
The whole affair is a novel concept and may just prove effective but does it get to the heart of Serbia's population problem? Social affairs commentator and human rights activist Sonja Biserko thinks not.
"This is a cheap trick to have attention in the media," she says. "Attracting young people through offering them a free holiday - that's not a guarantee of a stable family. This is not a recipe that society should offer as a key for young people to get together.
"It's a limited way to tackle the problem of an ageing society and a poor country that young people want to leave. This is just a replacement for lack of perspectives in Serbia."
As the dinner draws to a close, Slavoljub tells me of a new development. "A lady came up to my table and told me I had lovely eyes," he says with a smile. "All the men around me were jealous. I know something will happen with her in Greece - I can feel it."
Social engineering by a wealthy mayor seeking re-election or an altruistic idea to help the lonely find love? These singletons are willing to give it a try, looking forward to some sun, sea and matchmaking, Serbian-style. And nine months on from a few hot Greek nights, it might just pay off.