Russia: Jailed Mikhail Khodorkovsky becomes columnist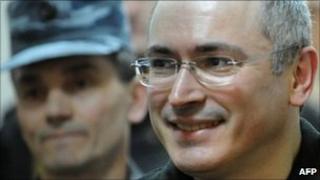 The jailed Russian oligarch Mikhail Khodorkovsky has become a columnist for a Russian weekly magazine.
In New Times, Mr Khodorkovsky - once Russia's richest businessman - will write of his experiences behind bars.
Since his arrest in 2003 and subsequent imprisonment, Mikhail Khodorkovsky has published a number of articles.
Most have been about his political views, his criticisms of the Russian authorities, as well as his vision for Russia's future.
But this is his first regular magazine column - and it reads very different from what he has written previously.
In New Times, Mr Khodorkovsky will be writing of life behind bars and of his fellow prisoners.
"Prison is a place where one can meet the most extraordinary people," he wrote. "I will try to write about some people and situations, somewhat changing their names."
His opening column includes the dramatic story of Nikolai, a 23-year-old inmate.
Nikolai, writes Mr Khodorkovsky, committed hara-kari in his cell and threw his intestines at prison guards rather than admit to a crime he had never committed - the theft of money from an old woman's handbag.
"I would die anyway if convicted of stealing the old lady's bag," he is quoted by Mr Khodorkovsky as saying.
According to the magazine, Mr Khodorkovsky's column will appear every two to three weeks.
A spokesman for the Russian prison system said the former oligarch was not breaking any rules by becoming a contributor.