Kosovo organ trafficking: Williamson to head EU probe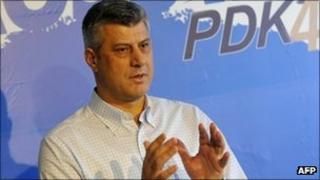 A US prosecutor is to head a task force investigating alleged crimes, including organ-trafficking, by serving leaders during Kosovo's 1999 war.
The move comes after a 2010 report named Kosovo's Prime Minister Hashim Thaci - a wartime rebel leader - in connection with the allegations.
The EU Rule of Law mission in Kosovo said it had appointed John Clint Williamson to lead the investigation.
Mr Thaci strongly denies the allegations.
A Council of Europe report released in December 2010 accused the prime minister of involvement in organised crime, including organ trafficking.
The report was based on a two-year investigation led by special rapporteur Dick Marty, and it named Mr Thaci - who was the wartime political leader of the Kosovo Liberation Army (KLA) - 27 times.
Organs were taken from prisoners killed by the KLA after the 1999 war against Serb forces, Mr Marty alleged.
Rebel commanders allegedly ran detention centres in Albania's border with Kosovo, where civilian captives, including Serbs, were killed and their organs sold on the black market.
Mr Marty said he had never claimed Mr Thaci was directly involved in organ-trafficking, but added that it was "hard to believe that he never heard anything being said".
The EU mission in Kosovo set up the task force to investigate the allegations in January. It will investigate both organised crime and war crimes.
Mr Williamson, 50, has previously served as ambassador for war crimes issues in the US state department and most recently has worked for the UN.