Germany's Angela Merkel ties Serbian EU hopes to Kosovo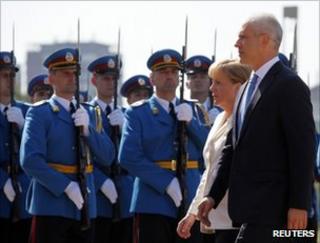 German Chancellor Angela Merkel, on a visit to Belgrade, has told Serbia it must normalise ties with Kosovo if it wants to join the European Union.
Serbian President Boris Tadic said the issue was "very complex", but that his country did not intend to "bring a new conflict into the EU".
Mrs Merkel is the first top Western leader to visit since war crimes suspect Ratko Mladic was seized in May.
The EU is due to mediate at new talks between Serbia and Kosovo next week.
Belgrade still regards the breakaway territory, which declared independence in 2008, as part of Serbia.
Tension persists and deadly clashes erupted this summer over the control of borders between Serbia and Kosovo.
"The summer was not so great and it led to events that we believed were in the past," Mrs Merkel said at a joint news conference with Mr Tadic.
'Achieve results'
After arriving from neighbouring Croatia, which is due to join the EU in 2013, Mrs Merkel referred to the bloc's law and order mission in Kosovo, Eulex.
"If Serbia wants to achieve candidate status, it should resume the dialogue and achieve results in that dialogue, enable Eulex to work in all regions of Kosovo, and abolish parallel structures and not create new ones," she said.
Earlier, in Croatia, she had said her message to Serbia would be: "To join us at the table... you need to do something in return.
"One of the preconditions for Serbia is Kosovo, that relations between those states get normalised."
Responding on Tuesday, Serbia's president urged Germany to try to understand the situation in the western Balkans.
"Serbia is committed to finding a peaceful solution. We want to resume the dialogue and find a durable compromise," Mr Tadic said, adding that Serbia also wanted to retain "its principles and its integrity".
"I will be clear. We are facing a very complex issue with Kosovo. Serbia has no illusion that it could bring a new conflict into the EU."
Business interests
Serbia aims to be granted official EU candidate status later this year and to be given a start date for accession talks, the BBC's Mark Lowen reports from the Serbian capital.
This is the first visit to Serbia by a German chancellor in several years and is intended to encourage Serbia's government to maintain its pro-EU path, our correspondent says.
Germany was one of the first countries to recognise Kosovo's declaration of independence from Serbia in 2008 and has been an outspoken critic of Belgrade's refusal to accept the split, he adds.
A large delegation of business leaders is accompanying Mrs Merkel in the hope of increasing Germany's already significant investment in Serbia.
German companies including Siemens have large factories in Serbia and there are plans to expand further.
Overall, our correspondent says, the German visit is a sign that Serbia is moving more into the European mainstream and that the West has its hand outstretched.