Norway attacks: National memorial held for victims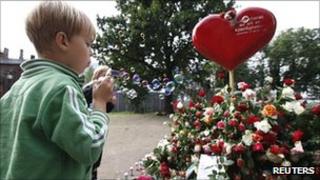 A national memorial service is being held in Oslo for the victims of the 22 July bomb and gun attacks.
The ceremony at the Spektrum Arena marks the end of a month of mourning for the 77 victims, whose relatives are among the 6,000 guests.
It is featuring performances by some of Norway's top musicians, with pop band A-ha reuniting for the occasion.
Far-right extremist Anders Behring Breivik, 32, confessed to the attacks and remains in solitary confinement.
Eight people were killed in a bombing in the capital Oslo and 69 people were shot dead at a youth camp on the island of Utoeya.
'Move on'
The ceremony is being broadcast live and is to include speeches by King Harald and Prime Minister Jens Stoltenberg. The names of the victims will be read by five prominent Norwegian actors.
The victims' families will be joined by survivors, government ministers, and the police and emergency services workers who dealt with the attacks.
Leading politicians and royals from neighbouring countries will also be in the audience.
Adrian Pracon, 21, who survived the massacre on the island, said it would be "good for people to have a final memorial".
"It will never be really final because we will be reminded of what happened every day, every year," he said.
"But right now this could maybe close up this whole thing and maybe let us, as participants, say 'we are now moving on'. We need to move on."
He was one of a group of survivors and relatives of the victims to visit Utoeya island on Friday and Saturday.
Before the concert, members of the public and some of those taking part in the memorial service laid flowers at Oslo Cathedral. Children also blew soap bubbles as a tribute to the young victims.
Mr Breivik last appeared in court on Friday. He admits to the killings but denies criminal responsibility, saying he believes the massacre was "necessary" to save Norway and Europe from Muslims and multiculturalism.