Turkish jets hit Kurdish rebels again in northern Iraq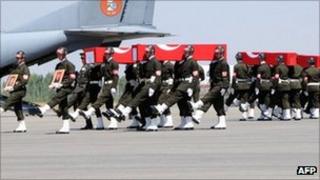 Turkish warplanes have hit rebel Kurdish bases in northern Iraq for the second night, the separatists and Turkish media say.
The strikes on the bases used by the Kurdistan Workers' Party (PKK) follow an attack by the separatists that killed nine Turkish troops.
A PKK spokesman told the AFP there were no casualties from the raids.
The Turkish military earlier said it would press ahead with strikes until the rebels were "rendered ineffective".
During the second night of air strikes on Thursday, Turkish planes reportedly hit bases in Qandil, which lies just across the border in Iraq.
The raids come after nine Turkish soldiers were killed and another 14 injured in the attack in the district of Cukurca, in Hakkari province close to the border, on Wednesday.
Officials and Turkish media said the vehicle used by the troops who died was hit by a roadside bomb or mine. There were also reports of a shoot-out.
The PKK said they had carried out the attack.
Strategy questions
There has been an increase in rebel attacks this summer, casting doubt on the chances of peace talks.
The latest attacks will add to pressure on the government to devise a more effective strategy for combating the PKK, the BBC's Jonathan Head reports from Istanbul.
The government has already said it will ask the police to play a bigger role in counter-insurgency, he says, but this idea has been challenged by critics who argue that the police are no better equipped to tackle the PKK than the army is.
Our correspondent says there is little talk now of renewing the so-called "democratic opening", an initiative from two year ago, which aimed to end the conflict in the south-east by expanding the rights of the Kurdish minority.
The PKK, designated a terrorist organisation by Turkey, the EU and the US, has waged a 26-year insurgency against the Turkish state.
More than 40,000 people have been killed in the violence.
On Saturday, three soldiers were killed in a PKK ambush in eastern Turkey while last month 13 soldiers and seven Kurdish rebels were killed in the deadliest clash in three years.