Russia sharks: Two attacks in 24 hours on Pacific coast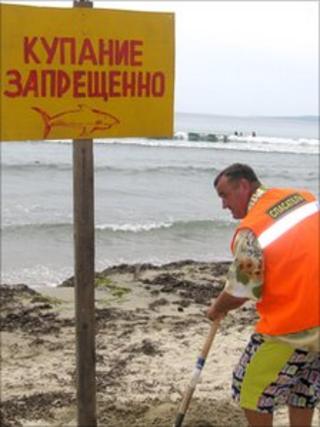 Two bathers in waters off Russia's Pacific coast have been mauled in shark attacks which occurred in the same area, inside 24 hours.
A 16-year-old boy was mauled on Thursday while swimming near Zheltukhina island. He has been taken to Vladivostok hospital.
On Wednesday, a shark bit off the forearms of a man, 25, trying to protect his wife in Telyakovsky Bay.
Swimming has been banned along the coast of the Maritime Territory.
Both of the attacks occurred in the Khasan district.
White sharks
The head of the World Wildlife Fund's sea programme, Konstantin Zgurovsky, told the Interfax news agency that the region off the coast from Vladivostok had not seen shark attacks for years so this could be a signal of climate change.
Officials have banned swimming at beaches in the Sea of Japan along the shores of the Maritime Territory.
One local official told AFP that local authorities might consider a shark hunt.
The 16-year-old boy had been bitten in the leg with an artery severed.
A surgeon at the Khasan Central District Hospital tending the man bitten on Wednesday said that he had been swimming with his wife just 20 to 25m (yds) off the shore in the Telyakovsky Bay and had fought back to protect her from the shark
The man is said to be in a grave condition in intensive care.
The broadcaster Russia Today reported that the species of shark had yet to be identified but is thought to be a hammerhead.