Pope in Spain: Pilgrims in Madrid's protest square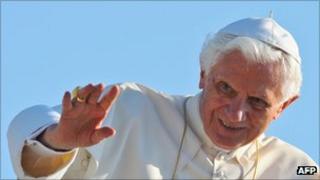 Young Catholics have been pouring into the Spanish capital all week and Pope Benedict XVI is to join them on a four-day visit to Madrid.
The pilgrims have made their way from 193 countries. For days, they have packed the sweltering city streets sporting matching rucksacks and floppy sun hats. The metro is full of groups singing hymns in loud harmony as they ride.
They are here for World Youth Day - actually a week of activities - which culminates in an open-air Sunday Mass con-celebrated by the Pope. But there has been growing discontent over the event's estimated 50m euro (£44m; $72m) price tag.
On Wednesday, thousands of protesters marched through Madrid behind a banner that insisted "not with my taxes".
"I don't have anything against the Pope coming here," explained Pinar Alegre, who was herself baptised as a baby but is not a practising Catholic. "But I'm upset we are spending money we don't have, on a Catholic event when this is not a Catholic country."
'Big circus'
Her complaint was echoed on signs and banners in the crowd all around.
"Let the Vatican pay for the Pope's holidays," one read, next to another: "Jesus wouldn't have spent this much to visit you."
Those marching included gay rights groups, feminists and trade unionists - as well as some priests - and many Spaniards who question the wisdom of such lavish arrangements for the Pope at a time of mass unemployment and austerity.
"It's like a big circus of Christianity at a time when there's a big economic crisis," argues Julia Gomez, another demonstrator. Vast stages have been built in Cibeles square and at an airfield.
"The money should be spent in other ways that are useful for society in general," Ms Gomez believes.
World Youth Day organisers insist that the event is self-funding, mainly through pilgrim registration fees topped up with donations and sponsorship.
"The budget this year is 20% less than previous World Youth Days," explains executive director Yago de la Cierva.
"We cut costs as far as possible. But we still have to house and feed many people and organise activities."
He argues that 100m euros will be injected into the local economy by so many extra visitors to Madrid. Critics point out that the taxpayer will foot the bill for the use of public buildings as lodgings, and the thousands of additional medics and police on duty.
Crisis of faith
Those police were in action on Wednesday night, as protesters and pilgrims came face to face in Sol Square.
Sol was once the site - and is now the symbol - of the "indignant" protests that began in May against 46% youth unemployment and government spending cuts. The remnants of their protest camp were cleared forcibly by police earlier this month.
Now Sol has been filled with young pilgrims.
Restrained by police, many protesters yelled insults about paedophile priests. Some pilgrims shouted back, while others sang hymns, or knelt on the cobblestones to pray in response.
"Spain introduced Catholicism to my country, to Paraguay," says one of the pilgrims in Sol, Pamela Nunez.
"But that faith has been lost here. There are so many churches and no one in them - just old people. I believe that's why the Pope called us to come to Spain."
The World Youth Day tradition was begun by the late Pope John Paul II in the 1980s in an attempt to revitalise the faith of young Catholics in an increasingly secularised world.
That mission has grown in importance as Church numbers have dropped even in countries with deep Catholic roots, like Spain.
A recent government poll showed a 10% drop in the number of Spaniards who describe themselves as Catholic, to 71.7%. Only 13% regularly go to Sunday Mass.
The organisers of World Youth Day hope to improve those figures.
"Whenever there is World Youth Day, afterwards the number of young people involved in Church activities - Mass, catechism, promoting the faith - increases a lot," explains Yago de la Cierva.
"I think that's why the Pope chose Spain," he adds. Pope Benedict last visited the country only in November.
Lonely believers
Priests from other countries also talk of a morale-boost for parishioners, and a chance to project a positive image of the Church, after a decade of controversy over child abuse.
"In Belgium we have had a very difficult year," admits Fr Carmino, accompanying a group from his parish in Flanders. He refers to the resignation of the bishop of Bruges, after he admitted sexually abusing a boy.
"That's why it's nice to celebrate the good side of Catholicism."
For many of the pilgrims, this event is primarily a chance to meet other, like-minded young people from around the world.
"There is only one young person in my church, and not many anywhere in Melbourne," Catherine from Australia admits - a stark illustration of the Catholic reality.
"So it's good to be here and see that the faith is still alive for many."
Gay rights groups have planned another protest for Thursday in the form of a mass same-sex kiss-in as the Pope passes in his Popemobile. For the pilgrims, the focus now is on preparing to meet the Pope.