New war crimes trial for Kosovo ex-premier Haradinaj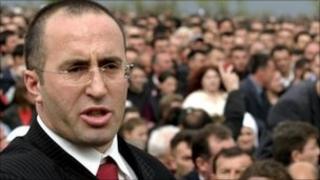 Former Kosovan Prime Minister Ramush Haradinaj is back on trial at The Hague in its first-ever partial retrial for war crimes.
He is re-appearing before the UN War Crimes Tribunal after his 2008 acquittal was overturned on grounds of witness intimidation.
The ex-Kosovo Liberation Army fighter is being tried with two co-accused.
Mr Haradinaj and fellow ethnic Albanian Idriz Balaj were acquitted on 37 counts of war crimes in the earlier trial.
The second co-defendant, Lahi Brahimaj, was convicted in 2008 of torture and sentenced to six years, but is now being retried on four additional counts.
Prosecutor Paul Rogers told judges that during the Kosovan war, victims were murdered and tortured, regardless of their ethnicity.
"While they were fighting a war, and thus using legitimate force, they also pursued illegal means to achieve that aim," he told the court.
The indictment against all three defendants alleged they had been involved in a joint criminal enterprise to establish KLA control in western Kosovo through detention camps.
Witness intimidation
Ethnic Serbs and Albanians who were deemed to have collaborated with Serbs were allegedly tortured and killed there, with 39 bodies found.
After the acquittal, the appeals chamber concluded that witnesses had been intimidated and that the prosecution had not been given the chance to question two potentially crucial witnesses.
Mr Haradinaj - the most senior ethnic Albanian indicted by the tribunal - is now being retried with his two co-accused on some of the original 37 counts.
The process will be closely watched, says the BBC's Mark Lowen, in Belgrade. In Kosovo Mr Haradinaj is still revered as a national hero by the ethnic Albanian majority and praised as a defender of their liberation struggle.
But in Serbia he inspires the opposite reaction, our correspondent adds.
His acquittal was seen by many as proof that the tribunal is, in the eyes of many, prejudiced against Serbs.
They believe a conviction would confirm that crimes were committed on all sides in the Kosovan war.
A verdict in the retrial, during which all three will plead not guilty, could take several months.