For sale in Sweden: Three-bed house, includes skeleton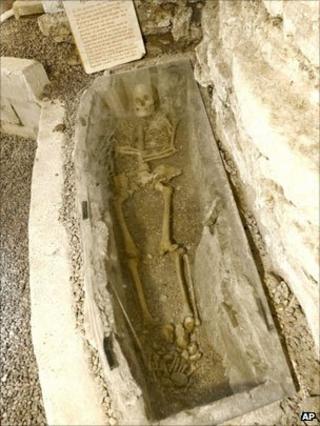 An estate agent in Sweden is offering a house with the remains of a medieval resident included in the price.
The property, built in 1750 in Visby, on the Baltic Sea island of Gotland, has a tomb and skeleton in the cellar.
The starting price for the three-bedroomed house, where the skeleton is visible through glass in the cellar, is 4.1m Kronor ($640,000; £390,780).
The property was built on the foundations of a Russian church, abandoned during the Middle Ages.
"It's harder to get closer to history," estate agent Leif Bertwig said of the house, according to Sweden's Helagotland website.
The farm where the house is located shares part of its property with two other nearby houses that also have access to the basement, reached via a spiral staircase from the courtyard, the website reports.
Even if you cannot raise the asking price to buy the house, a local museum does organise occasional tours to visit the skeleton in the cellar.