Russia shows off Sukhoi T-50 stealth fighter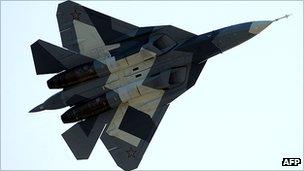 Russia has demonstrated its first stealth fighter, designed as a cheaper alternative to the US F-22 Raptor.
The Sukhoi T-50, jointly developed with India, flew publicly for the first time at the MAKS 2011 air show near Moscow.
The supersonic T-50 aims to match the latest US design, handling manoeuvres that are impossible to older aircraft.
Russia plans to make up to 1,000 of the jets over coming decades, with India expected to buy up to 200. However, full production is not due before 2015.
Mikhail Pogosyan, president of the Russian state-run United Aircraft Corporation which is developing the craft, said: "The T-50 jet will provide the backbone not only of the Russian air force but also that of India."
The Russian Air Force was expected to buy up to 200 of the craft, which is intended to replace the SU-27 fighter, he said.
India, Russia's biggest arms client, agreed to develop the project in tandem with Moscow during a December 2010 visit to New Delhi by President Dmitry Medvedev.
Originally scheduled for 2007, the T-50's maiden flight was repeatedly postponed because of technical problems.
It was eventually tested in secret for the first time in January last year.
Sukhoi says the T-50s features will include all-weather capability, ability to use a take-off strip of just 300 to 400 metres (yards), capacity for sustained supersonic flight through repeated in-flight refuelling, and ability to attack air and ground targets simultaneously.
However, some analysts have previously denied the jet represents a great leap forward.
Russia's state media reported last year that up to $10bn (£6bn) was being poured into the jet's development but that the fighter would cost no more than $100 million, the AFP news agency said.
The US Raptor - whose prototype was revealed more than 20 years ago - sells at $140 million per plane, it added.
Related Internet Links
The BBC is not responsible for the content of external sites.