Mouse grounds SAS plane in Stockholm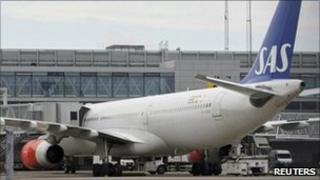 A mouse has grounded a flight from Stockholm to Chicago.
The mouse was seen scurrying across the floor of the SAS Airbus 330 before passengers began to board on Tuesday.
The creature had evaded capture despite "an extensive search onboard and numerous mouse traps placed inside the aircraft", SAS was quoted as saying.
The airline said that as well as unsettling passengers, the mouse posed a potential safety risk as it could chew the aircraft's cables.
It added that the 250 passengers left stranded in the Swedish capital had been understanding, and it was doing its best to rebook them on new flights.
But the aircraft is among the airline's largest, so finding a replacement has been difficult, reported Swedish English-language news website The Local.
American travellers James Roach and Marie Alswager told the website they had been waiting more than five hours in a line that is moving "six feet an hour".
"This is the most expensive mouse in the history of humankind," joked Mr Roach.
In fact, this is not the first time a rodent has grounded flights.
Two Delta Airlines flights from New York to London were cancelled in November 2009 after mouse sightings.