Turkish general in court on Sledgehammer 'plot' charges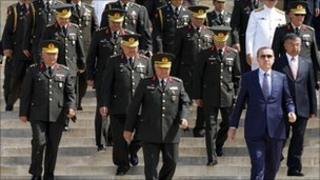 One of Turkey's most senior generals has appeared in court with 27 others to face charges of plotting to undermine the government.
General Bilgin Balanli was in line to become commander of the air force until his arrest three months ago.
He is among hundreds of military officers accused of planning to bring down the governing AK Party led by PM Recep Tayyip Erdogan in 2003.
Some 200 officers went on trial last December on similar charges.
The case has added to long-running tensions between the secularist military and the Islamist-rooted AK Party.
The chief of the armed forces resigned last month, along with the heads of the army, navy and air force.
Upper hand
General Balanli and his co-defendants are accused of taking part in a plot - codenamed Sledgehammer - that reportedly involved plans to bomb mosques and provoke tensions with Greece, in order to spark political chaos and justify a military takeover.
Parts of the plan were allegedly discussed at an army seminar in 2003 - a year after the AK Party came to power.
However, the defendants argue that the alleged plot was a theoretical scenario to help them plan for potential political unrest.
Appearing in court near Istanbul, Gen Balanli dismissed the charges as a "cowardly plot" to discredit Turkey's military, the AFP news agency reports.
The presiding judge was reportedly forced to suspend court proceedings briefly because of the loud applause for Gen Balanli in the public gallery.
The number of generals and admirals now in detention is about 10% of the total in the armed forces, the BBC's Jonathan Head in Istanbul says.
Armed forces chief Isik Kosaner resigned last month saying his job had become impossible "because I am unable to fulfil my responsibility to protect the rights of my personnel".
However, the military's long history of coups and political interventions has cost it some of the public sympathy it might otherwise have had, our correspondent says.
The government now has the upper hand and seems determined to root out its opponents in the ranks, he adds.