Prague 'gay pride': Czech capital hosts maiden march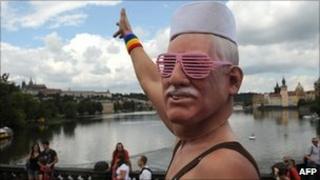 Several thousand people have marched through Prague in the Czech capital's first "gay pride" festival.
Revellers in fancy dress waved rainbow flags and blew whistles as they marched through the city centre.
Some 300 police guarded the colourful event, which had stoked controversy and counter-marches.
Earlier this week, a top aide to conservative President Vaclav Klaus, Deputy Chancellor Petr Hajek, labelled gay people as deviants.
Mr Hajek criticised Prague Mayor Bohuslav Svoboda for supporting "deviant fellow citizens."
His comments provoked a joint statement in support of the five-day gay pride festival from the ambassadors of 13 Western nations, including the UK and US.
But their letter drew an angry response from Czech President Vaclav Klaus, who refused to distance himself from Mr Hajek. The deputy chancellor had previously drawn criticism for rejecting Darwinism and calling the dead al-Qaeda leader Osama bin Laden a "media fiction".
Vltava converts
As Saturday's march went ahead in light drizzle, riot police held back dozens of far-right extremists who had gathered to shout abusive slogans.
The Czech Republic's Conservative Christian Democrats also held a peaceful counter-parade in support of traditional family values.
But the abuse and moist conditions did not dampen the party atmosphere, as marchers danced to music played from loudspeakers mounted on vans.
The march was to culminate in a series of concerts on an island in the Vltava river, as part of a five-day festival comprising some 80 events - concerts, films, seminars, exhibitions and parties - in 30 venues around the capital.
A gay pride march in the Czech Republic's second city Brno in 2008 ended in clashes.