Italian ad campaign aims to shame tax dodgers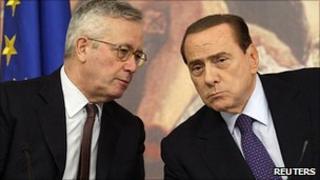 The Italian government has turned to Margaret Thatcher's favourite ad men - Saatchi & Saatchi - for a hard-hitting campaign to tackle tax evasion and show it is serious about getting the country's finances in order.
The move comes as the government confirmed details of a tough austerity package designed to stave off the threat of a Greek-style meltdown.
The nationwide campaign doesn't pull any punches.
"Think what you could do with 100bn euros [£87.5bn; $142bn]," runs one ad.
"Build 600 new hospitals or a million new homes - or triple spending on security."
That - it warns - is what tax evasion costs honest Italians.
As well as TV and radio slots, there are advertising hoardings at major railway stations and at the airports in Rome and Milan.
The underlying message is summed up by another slogan describing tax dodgers as "parasites on society".
The aim of the campaign is to shame tax evaders into declaring their real income, boosting the government's coffers and helping to stave off financial ruin.
As such, it runs hand-in-hand with government plans to slash spending and raise taxes.
The campaign was launched just before Italian Finance Minister Giulio Tremonti spelled out his plans to balance the country's books by 2013.
But Mr Tremonti has been embarrassed by allegations that he used cash to pay the rent on a flat in Rome - a classic ruse of tax dodgers the world over.
He hasn't been charged with any offence but has admitted that he made mistakes.
Italy has an unenviable reputation for tax evasion.
Last year it cost the state the equivalent of nearly $142bn (£87.5bn).
Despite the taxman's best efforts, experts say up to a quarter of the economy goes untaxed, much of it ending up in foreign tax havens.