Sergei Magnitsky: Russia charges two doctors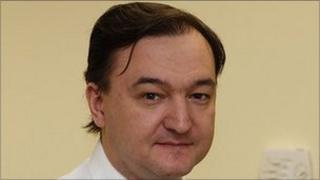 Russian prosecutors have charged two prison doctors with negligence in connection with the high-profile death of lawyer Sergei Magnitsky in 2009.
Investigators said they had found a "direct link" between his death and the actions of the doctors.
Mr Magnitsky, who was detained after accusing officials of fraud, allegedly died owing to torture and neglect.
The move comes amid a row between Russia and the US, after the US blacklisted officials over the case.
'Carelessness'
Last month, prosecutors announced that the two doctors, Larisa Litvinova and Dmitry Kratov, were being investigated in connection to the case.
Chief physician Larisa Litvinova is charged with causing death by negligence and faces up to three years in prison if found guilty.
Mr Kratov meanwhile, who holds the senior post of deputy prison director, is charged with carelessness and, if convicted, faces a five-year sentence.
The charges follow a report by President Dmitry Medvedev's human rights council, which concluded that there was reasonable suspicion that Mr Magnitsky's death was triggered by beatings while in police custody.
The report singled out different officials - senior interior ministry investigator Oleg Silchenko and prison chief Ivan Prokopenko - for being at fault.
Tax fraud allegations
Last month, the US State Department said it had placed a visa ban on unnamed individuals it believed were responsible for the death, as part of an initiative to target human rights violators.
Russia has warned the move will damage relations between the two countries and has vowed to retaliate.
It has since drawn up a list of Americans it says will be barred from entering Russia, according to sources cited by Kommersant business daily.
Mr Magnitsky, who worked for a Western investment fund, spent a year in pre-trial detention in Moscow's Butyrka prison before his death.
Mr Magnitsky's former employer has previously accused Russia of "trying to create the appearance" of acting, while protecting the more powerful people involved.
The company, equity fund Hermitage Capital, was accused by Russian officials of evading paying taxes.
Hermitage boss William Browder accuses Russian officials of using his company to operate a $230m (£143m) tax fraud.
Mr Magnitsky, the firm's lawyer, claimed to have unearthed evidence that implicated the police, officials and bankers in the fraud.
He was later arrested, himself accused of fraud, and investigated by some of those he had accused of corruption.