Norway's a-ha reunite for July attacks memorial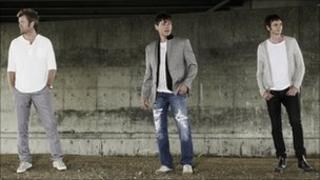 Norway's pop band a-ha will reunite to perform during a memorial ceremony in Oslo for the victims of the 22 July attacks, the musicians say.
"We do this to honour those who have been torn away," said the three musicians, who split last year.
Eight people were killed in a bombing in Oslo and 69 people were shot dead at a youth camp on the island of Utoeya.
Far-right extremist Anders Behring Breivik later confessed to the attacks, which shocked the nation.
'Shaken'
On their official website, a-ha's singer Morten Harket, keyboard player Magne Furuholmen and guitarist Pal Waaktaar-Savoy said they would take part in the memorial ceremony in Oslo's Spectrum concert hall.
The group said they wanted "to show appreciation to everyone who made an effort to help out on 22 July, and to express our sympathy to the survivors who now are left in sorrow".
"On 22 July, we, like everyone else in Norway and the rest of the world, were shaken to the soul by these actions of cruelty and violent provocation against everything we stand for," the statement added.
A-ha achieved world fame in 1985 with its single Take on Me, quickly becoming Norway's most famous band.
The trio initially split in the 1990s. They decided to get back together in 2000, but last year again went their separate ways.
Psychiatrists appointed
A special police unit set up to investigate the attacks is currently looking at whether Mr Breivik, 32, acted alone and if he had contact with other cells of right-wing extremists in Western Europe opposed to the immigration of Muslims.
On Wednesday, Prosecutor Christian Hatlo told the Associated Press news agency that - after questioning Mr Breivik - investigators increasingly believed that he planned and committed the attacks on his own.
Mr Breivik blames the governing Labour Party for increased immigration in Norway. Its youth wing was on Utoeya island for a summer camp when the attack took place, while the Oslo car bomb was set off earlier near government buildings.
Meanwhile, a court has appointed two psychiatrists to try to examine Mr Breivik's actions, with a mandate to report back by 1 November.
Mr Breivik has been charged under the criminal law for acts of terrorism. The charges include the destabilisation of vital functions of society, including government, and causing serious fear in the population.
At a court appearance on 25 July, Mr Breivik admitted carrying out the attacks but did not plead guilty to the charges. He was remanded in custody for eight weeks, with the first four to be in solitary confinement.
Also on Wednesday, Norwegian police defended their actions on the day of the attacks, amid criticism in the local media that it could have reached Utoeya island quicker and saved more people there.
"We are convinced that we did our best to handle the situation the way we understood it at the time," Oslo police staff chief Johan Fredriksen was quoted as saying by the AFP news agency.