Estonian lessons for the Arab Spring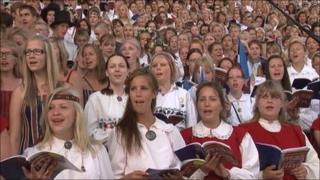 Emerging democracies in the Arab World may not have the prospect of joining a group like the EU to push them towards reform but the example of Estonia after 1991 may serve as an inspiration to show Arabic democracy activists just what is possible.
Fifteen thousand young Estonians, in brightly coloured folk costumes and with flowers in their hair, are singing on a giant stage.
On the hillside around them hundreds of thousands of people sing along - many with tears in their eyes.
They are so visibly moved today because it is partly thanks to song festivals like this that Estonia even exists as a nation at all.
It was on this stage that Estonia's fight for independence began.
In 1988 a quarter of the population gathered here to sing for freedom. Three years later, in 1991, the country achieved that goal and declared independence.
The young people singing here were not even born then but these songs are, for them, a vivid and emotional reminder of their country's struggle for independence.
Peaceful protest
Tunne Kelam is an Estonian member of the European Parliament who was punished by the Soviet authorities for his pro-independence activities.
He says that during the Soviet occupation, these song festivals were one of the few places where Estonians were allowed to gather and in the end it was this that kept the revolution peaceful.
"We regained our independence without one person being killed, without outbursts of vengeance, without hatred, but by peaceful, civilised ways," he says.
"I think it's to a very great extent thanks to the tradition of song festivals. Just letting your feelings out, not in the streets or beating up your enemies, but just coming together and doing something positive."
In the late 1980s Riina Roose was one of the first to publicly sing songs calling for freedom. She says music attracted international attention and bypassed Soviet censorship.
"Everyone is able to sing," she says.
"Repressive regimes can easily burn books or demolish buildings but it is very hard to stop people singing.
"Songs were the simplest way for us to express ourselves."
Lessons learnt
But the celebrations at this song festival are about more than just remembering events 20 years ago.
Many Estonians see a parallel between their experience and the struggle facing those fighting for democracy today in the Arab World.
One of those is the current Estonian President, Toomas Hendrik Ilves.
Parading past Tallinn's pretty medieval Old Town, Estonian children in national costume wave excitedly at him.
As he waves back, President Ilves explains that Estonia's successful transition to democracy proves it is possible to go from a totalitarian dictatorship to a prosperous and open society.
"I like to paraphrase the opening to Tolstoy's Anna Karenina: All successful countries are reformed alike," he says.
"Each failed country finds its own excuse. If you look at what has worked, it all seems to be pretty much the same: rule of law is probably really the important thing, which means that you are always guaranteed that you will have a fair and impartial hearing.
"It gives much more confidence to the citizen than just saying, every four years we'll have an election. That raises the level and confidence of people in their country and means that democracy is much more firmly grounded."
Economic growth
MEP Tunne Kelam agrees but he warns that corruption can quickly undermine a fledgling democracy.
He recognises that Estonia has been saved from the oligarchs and power groups that exist in Russia and other countries.
"This is thanks to opening up from the very beginning to the outside world, and opening up to the free market society," he says.
"We privatised all state-owned monopolies and enterprises as much as possible."
Meanwhile back at the festival, looking round at the happy smiling faces and the fashionably dressed young people, it is hard to believe that Estonia was one of the poorest countries in Europe and struggling to adapt to democracy.
Today the capital Tallinn is buzzing with new hip bars and cafes, the country is a member of the EU and Nato, and it has one of the fastest-growing economies in Europe.