Swedish queen's report denies father had Nazi links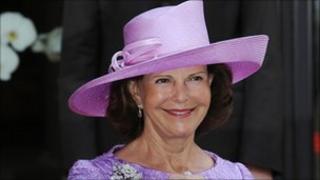 Sweden's royal family has rejected allegations of links between the German-born queen's late father and the Nazi regime in Germany.
Queen Silvia has published a report she commissioned in response to claims her father took over a factory from a Jewish businessman.
The report concluded that Walter Sommerlath had in fact helped the Jewish man escape from Germany.
But a Holocaust survivors' group said the findings were a "whitewash".
Last year, Swedish commercial broadcaster TV4 reported that Mr Sommerlath had taken advantage of the Nazi's "Aryanisation" programme to take over a factory belonging to Jewish businessman Efim Wechsler in 1939.
But the new, 34-page report, compiled by Swedish World War II expert Erik Norberg, indicated that Mr Sommerlath had allowed Mr Wechsler to escape from Germany by trading the factory for a coffee plantation in Brazil.
The report confirmed that Mr Sommerlath - who died in 1990 - had gone to Brazil in 1920, aged 20, where he met and married the queen's Brazilian mother Alice, whose family owned the large plantation.
The American Gathering of Holocaust Survivors and their Descendants reacted to the report by dismissing it as "self-serving" and lacking in credibility.
"The report was not an independent inquiry - it was commissioned by the queen with the participation of her cousin, a Brazilian lawyer," the organisation said in a statement quoted by the Associated Press news agency.
"Such a probe can only raise suspicions of a whitewash."
Queen Silvia has faced criticism in Swedish media for a number of years for not doing more to address the rumours of her father's role in Germany during World War II.