Q&A: Ukraine's Yulia Tymoshenko on trial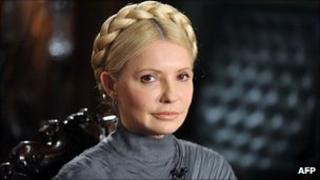 The former Prime Minister of Ukraine, Yulia Tymoshenko, has been convicted by a Kiev court of abuse of office over a gas deal with Russia and jailed for seven years. She rejected the trial, saying it was politically motivated.
Who is Yulia Tymoshenko?
The former businesswoman came to prominence on the world stage during Ukraine's 2004 Orange Revolution. She was one of the leaders of the successful campaign to overthrow Viktor Yanukovych, who had claimed victory in that year's disputed presidential election. Following the revolution she was appointed prime minister by President Viktor Yushchenko but was dismissed a few months later after conflicts within the coalition. She regained the premiership in 2007 but political squabbling with Mr Yushchenko continued. She was defeated by Viktor Yanukovych in the presidential election of 2010 which outside observers generally deemed to be fair, and was forced out of office shortly afterwards.
On what charges was she convicted?
She was jailed on 11 October for criminally exceeding her authority over a 10-year gas contract signed with Russia in January 2009. Prosecutors said Mrs Tymoshenko had not had cabinet approval to sign and the deal had been ruinous for the Ukrainian economy. She denied the charges. This is not the first case to be brought against the former prime minister. In December 2010, she was charged with misusing 320m euros (£270m; $425m) received by the government in 2009 for the sale of carbon credits.
Why was she held on remand during her trial?
On 5 August, trial judge Rodion Kireyev ordered Yulia Tymoshenko to be remanded in custody, accusing her of repeated violations of court rules, including impeding proceedings. She had reportedly refused to stand up while addressing the judge and questioned his objectivity during the trial. One of her lawyers, Sergei Vlasenko, described her detention as "unprecedented and illegal". The prosecution had accused Mrs Tymoshenko of failing to take the trial seriously and mocking the judge and witnesses - who have included current Prime Minister Mykola Azarov. She has also sent tweets from inside the courtroom.
Was this a show trial?
Mrs Tymoshenko and her supporters have repeatedly denounced the trial - she called it a "political lynching". She says the proceedings are an attempt by President Yanukovych to bar her from future elections. The Ukrainian government rejects these accusations and insists it is not interfering with the legal system. The US and EU have criticised the charges, saying they constitute selective prosecution of political opponents. EU Enlargement Commissioner Stefan Fuele suggested Ukraine's EU integration hopes could be undermined. "If she indeed is put in prison... it would be problematic," he said. Ukraine's PM called such external pressure "immoral".
What has been the reaction outside the court?
Her trial appearances have provoked confrontations between hundreds of her supporters and riot police.