Protesters gather as Tymoshenko trial resumes in Kiev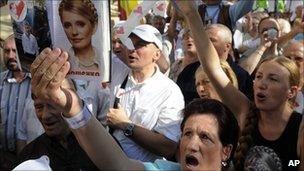 Thousands of supporters and opponents of former Ukrainian Prime Minister Yulia Tymoshenko have gathered in Kiev, as her trial on charges of abuse of office resumes.
She spent the weekend in custody, after the trial judge ordered her arrest on 5 August.
Ms Tymoshenko has claimed that the proceedings are politically motivated.
Supporters of the former Prime Minister are engaged in a stand-off with anti-riot police and political opponents.
Judge Rodion Kireyev ordered her to spend the rest of the trial in custody following allegations of repeated violations of court rules, including impeding proceedings.
He rejected a request by Ms Tymoshenko's lawyers at the start of today's hearings to free her from police detention.
The prosecution had accused Ms Tymoshenko of failing to take the trial seriously and mocking the judge and witnesses - who have included current Prime Minister Mykola Azarov - in comments posted on her Twitter account inside the courtroom, another report said.
She is accused of illegally agreeing a 10-year contract to buy natural gas from Russia, which investigators say meant Ukraine was forced to buy gas at prices that were ruinous for the ecomomy.
However she has criticised her trial as an attempt by President Viktor Yanukovych to bar her from elections.
Mrs Tymoshenko was one of the central figures in the Orange Revolution of 2004, which overturned Mr Yanukovych's fraud-tainted presidential election victory.
She was prime minister briefly in 2005, and then again from 2007 to 2010. However, she was defeated by Mr Yanukovych in last year's presidential election.