Cyprus President Demetris Christofias appoints cabinet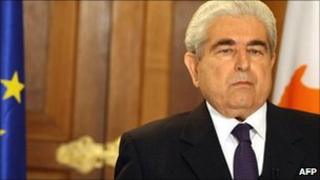 Cyprus President Demetris Christofias has appointed a new cabinet, installing economist Kikis Kazamias as finance minister.
The previous cabinet had resigned after a blast destroyed the island's main power plant, causing an energy crisis.
Centre-right party Diko then pulled out of the coalition with the communists over differences on economic policy.
However, Mr Kazamias said Cyprus should be able to avoid becoming the fourth eurozone economy to seek a bailout.
"There is no such issue at the moment," he told Reuters, adding that the island "should avoid" needing any support mechanism in the coming months.
"We have every reason to be optimistic from the moment everyone assumes their share of responsibility," Mr Kazamias added.
Ratings agencies Fitch's, Standard & Poor's and Moody's have all downgraded the island's credit rating this year, with its banking sector holding between 4.5bn and 5bn euros ($6.4-7bn: £4-4.4bn) of Greek debt.
Austerity measures
The Cypriot economy's growth prospects have suffered as a result of rolling power cuts since the Vassilikos plant blew up on 11 July, when a cargo of confiscated Iranian munitions exploded at a nearby military base.
Moody's lowered its growth forecast for the island to zero for this year and 1% next year, while opposition parties accused the government of backtracking on planned financial reforms and austerity measures.
The communist AKEL party is now in a clear minority in parliament, with only 19 deputies in the 56-member House of Representatives, making it difficult to pass legislation.
Other appointments to cabinet were Erato Kozakou as foreign minister and Demetris Eliades as defence minister.
Neoclis Sylikiotis retains his post as interior minister, Sotiroulla Charalambous stays as labour minister and Loukas Louka remains in charge of justice.