New IMF head Christine Lagarde faces finance deal probe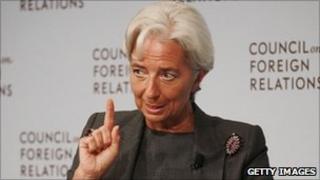 A French court is to investigate the new head of the IMF for abuse of authority as French finance minister.
Christine Lagarde is accused of wrongly pressing a bank to enter binding arbitration over a dispute with a businessman who supported President Nicolas Sarkozy's election campaign.
Ms Lagarde denies misconduct. There is no suggestion she profited personally.
A BBC correspondent says the move is embarrassing for Ms Lagarde, who has been in the job for one month.
But it is no indication of her guilt or otherwise, he adds.
Ms Lagarde took over as managing director from Dominique Strauss-Kahn in July, following his arrest in May on charges of the attempted rape of a New York hotel maid.
Binding arbitration
After the court decision, a prosecutor said the inquiry would focus on allegations that she was complicit in the misuse of public funds.
The BBC's Christian Fraser in Paris says that an investigation within the bureaucratic French legal system could take months or even years.
But Ms Lagarde's lawyer, Yves Repiquet, said the decision would not affect her work.
"This procedure is in no way incompatible with the current functions of the managing director of the IMF," he said.
Mr Repiquet described the inquiry as "suspicion abusively cast on Christine Lagarde by a handful of opposition members of parliament for political ends".
The Court of Justice of the Republic, a special body with the power to judge ministers, made the decision after meeting for several hours to discuss a preliminary inquiry.
Prosecutors say Ms Lagarde abused her authority by approving a 285m-euro ($406m) payment to businessman Bernard Tapie, a former left-wing minister who switched sides to support Mr Sarkozy in the 2007 presidential election.
At the time Mr Tapie was in the midst of a court battle with the former state-owned bank Credit Lyonnais.
He alleged the bank had defrauded him in the 1990s, when he sold a stake in the sports clothing business Adidas.
The businessman had lost the case in the country's highest court but was appealing against the decision.
Some months later, the new Finance Minister, Ms Lagarde, overruled objections from her officials and intervened in the judicial case, pushing the bank and Mr Tapie into binding arbitration.