Ukraine to free 'drinking' bears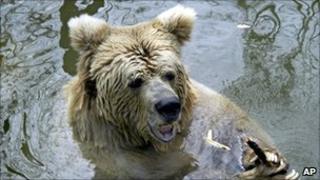 Dozens of bears kept for entertainment in private zoos, restaurants and motels in the Ukraine are to be rescued, the country's government says.
Environment Minister Mykola Zlochevsky said many of the bears were poorly treated and forced to drink alcohol.
"How long can we tolerate animal torture in restaurants where drunken guests make bears drink vodka for laughs?" Interfax quoted him as saying.
Some 80 bears would be released into a wildlife sanctuary, he said.
An enclosure would be built to house the animals.
Mr Zlochevsky said government officials had identified around 80 bears being kept in inappropriate conditions.
"On television, they keep showing bears suffering in restaurants and roadside hotels," he said.
Captured bears were used for entertainment in the Russian Empire, which Ukraine was once part of, but Mr Zlochevsky said the practice was unacceptable today, Reuters news agency reported.