Norway attacks: Breivik makes 'unrealistic' demands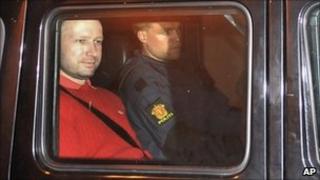 The man who has confessed to killing 77 people in Norway has made a list of "unrealistic" demands, his lawyer says.
Anders Behring Breivik wanted the government to resign and Japanese specialists to assess his mental health, Geir Lippestad told reporters.
The far-right extremist admits killing eight people with a bomb in Oslo and shooting dead 69 on Utoeya island.
Meanwhile, the leader of the right-wing Progress Party has warned that Norway still faces a serious Islamist threat.
"All the debates that we had prior to 22 July will come back. All the challenges that Norway was facing and the challenges that the world was facing are still there. Al-Qaeda is still there," Siv Jensen told the AFP news agency.
"The new thing is that we have been in a horrible way reminded of the fact that terrorism can come in many different forms, with different rhetoric behind it, with different crazy ideas behind it."
Ms Jensen also said in another interview that the anti-Muslim views of Mr Breivik, who was a member of the Progress Party between 1999 and 2006, were "perversely unique" and that it was not aware of his plans.
"It was impossible for us to foresee at the time. He obviously changed in recent years without anyone knowing," she told the Associated Press.
Mr Breivik blames the governing Labour Party for increased immigration in Norway. Its youth wing was on Utoeya for a summer camp when the attack took place, while the bomb was set-off near government buildings.
'Impossible'
Mr Lippestad said Mr Breivik's list of demands was "far from the real world" and "completely impossible to fulfil" and showed "he doesn't know how society works".
"His demands here includes the complete overthrowing of both the Norwegian and European societies," he told the Associated Press. "But it shows that he doesn't understand the situation he's in."
The 32-year-old had linked his demands to his willingness to share information about other alleged terrorist cells, Mr Lippestad said.
Norwegian police have previously cast doubt on Mr Breivik's claims that he was part of a broader network but said they would investigate them.
A court has appointed two psychiatrists to try to examine Mr Breivik's actions, with a mandate to report back by 1 November.
Mr Lippestad said Mr Breivik had asked that he also be examined by Japanese mental health specialists as he believes "the Japanese understand the idea and values of honour" and would understand him better than Europeans.
The lawyer has previously said his client is probably insane.
Mr Lippestad added that a second list from his client requested items like cigarettes and civilian clothes.
Terrorism charges
Mr Breivik has been charged under the criminal law for acts of terrorism. The charges include the destabilisation of vital functions of society, including government, and causing serious fear in the population.
At a court appearance on 25 July, Mr Breivik admitted carrying out the attacks but did not plead guilty to the charges. He was remanded in custody for eight weeks, with the first four to be in solitary confinement.
The attacks on 22 July traumatised Norway, one of the most politically stable and tolerant countries in Europe.
The government plans to set up an independent "July 22 Commission" to examine the attacks, including investigating whether police reacted too slowly to the shootings at Utoeya.