Italian coastguards find 25 bodies on boat at Lampedusa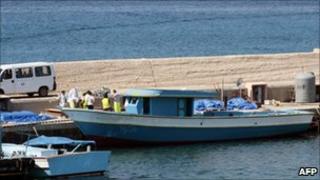 Italian coastguards have found the bodies of 25 men on a boat crowded with refugees fleeing Libya.
The 15-metre boat landed on the southern Italian island of Lampedusa carrying 271 survivors, the AFP news agency reported.
The bodies of 25 men were found in the boat's engine room. They appear to have died from asphyxiation, officials said.
Thousands of refugees from North Africa have arrived on the island in recent weeks.
The coastguard boarded the boat at around 01:20 on Monday (11:20 GMT on Sunday) and discovered the bodies.
Italian media reported that the people in the engine room had apparently tried to escape but had been trapped by the numbers on board and probably been choked by engine fumes.
The engine room was only accessible through a 50-centimetre (20-inch) wide trap door from the deck, an official said.
International waters
Italian investigators say some of the corpses had already begun decomposing when they were recovered by firemen and they believe the refugees died in international waters.
"Given the state in which the corpses were found, they could have been dead for at least 48 hours," doctor Pietro Bartolo told reporters. Survivors said they had been at sea for three days.
The corpses have been taken to the morgue for post-mortem examinations and police are questioning survivors.
Reuters news agency reported some survivors as saying another man's body had been dropped overboard after he died on the journey.
BBC correspondent David Willey says most of the dead are believed to be from countries including Somalia, Nigeria and Ghana.
Refugee centre riots
Lampedusa is now the biggest gateway to the European Union for refugees from North Africa, with tens of thousands fleeing the war in Libya. An estimated 250 refugees drowned when their boat capsized off the island in April.
Our correspondent says the UN estimates that one refugee in 10 never makes it, dying on the way from exposure, or thirst, or from drowning when their boats capsize.
He says many Italians feel disappointed at the European Union's response, feeling they have been left to deal with the crisis on their own.
Emergency immigration centres have been set up in various parts of Italy to deal with the new influx of refugees.
Rioting broke out a migrant centre near the southern Italian port of Bari on Monday, leaving 35 people injured.
Migrants demanding refugee status threw stones at police, who responded with tear gas. AFP reported that rioters blocked a main road and railway for several hours and wrecked a passing bus.
The clash ended after authorities promised to respond to the demonstrators' requests by next Wednesday. Thirty people were arrested.
It follows a riot on Saturday at a centre near Rome that left eight police officers injured. Earlier in the week some 300 detainees in Sicily also rioted, blocking a road and setting fires.