Russia: Nine drown as Moscow pleasure boat sinks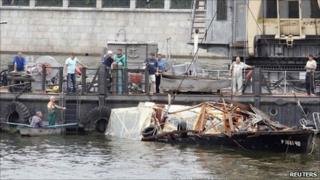 A pleasure boat has sunk on the Moscow River in Russia's capital, drowning nine people, officials say.
Seven of the 16 on board were rescued, they said. The boat is reported to have been hosting a birthday party and is suspected to have been overcrowded.
Reports say the boat, the Swallow, collided with a barge in the early hours of Sunday morning.
The accident comes three weeks after a tourist boat sank on the Volga river in Tatarstan, killing more than 100.
'Rules breached'
Local media quoted witnesses as saying the Swallow was moving erratically on a 200m-wide bend before colliding with the barge.
The deputy emergency minister Alexander Chupriyan said: "After the collision, the motor boat was pulled under the bottom of the barge."
The accident took place close to the city's Luzhniki sports stadium.
The captain of the barge helped rescue some of the survivors.
Mr Chupriyan said inquires were focusing on the owner and captain of the Swallow, Gennady Zinger, who was one of those who died.
He said Mr Zinger had violated rules three times in the past, including exceeding the boat's capacity of 12.
Witnesses said a Turkish national had been hosting a birthday party.
Another official involved in the investigation, Vladimir Markin, told the Associated Press news agency that one of the survivors had said he worked at the US embassy.
Three weeks ago the 80m (260ft) Bulgaria - a double-decker river cruiser built in 1955 - listed during a thunderstorm on the Volga river and sank in minutes, trapping many passengers inside.
About 80 people were rescued.
Officials said the boat was designed for 140 passengers and crew but it had been carrying 208 people. It also lacked the correct licences and one of its engines was not working, prosecutors said.
Russian police arrested the director of the company that rented the boat and a ship registrar who certified it.